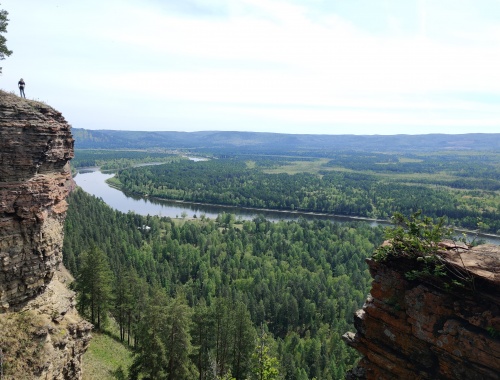 Total Hiking distance: 10 km
Altitude:  687 m above the sea level
Starting / end point of the tour: hotel in Irkutsk
Recommended:
sprays against mosquitoes and ticks (highly recommended to have an injection against tick-borne  encephalitis)
trekking shoes and gloves
This marvelous monument of nature is under protection of the government and attracts visitors from all over Russia and from abroad.
The cliff was named after Shamanka settlement, where it's located.
It takes about 1 hour by car to get to Shaman cliff from Irkutsk.
During 1-day hike one can enjoy splendid views on Siberian forest and the Irkut River from a height of almost 700meters above the sea level. 
The hike does not demand any special level of training. Even families with kids do this tour quite often.
The hike itself is not dangerous and difficult, but the ascent and the descent from the hill are rather steep.
Anyway, the view from the top is worth climbing!
There are 33 high points in the cliff; that's why "33 knights" is an alternative name of this cliff.
This name – 33 Knights – is very popular among Russian travelers and it originates from a Russian fairy-tale (by A.S. Pushkin) about 33 Bogatirya (= mighty and handsome worriers), who stood on the shore and protected a magic kingdom from enemies and strangers…   
33 points of the cliff look like these fairy-tale worries.. So, this association with a fairly-tale makes this place exceptionally attractive for visitors.
Program: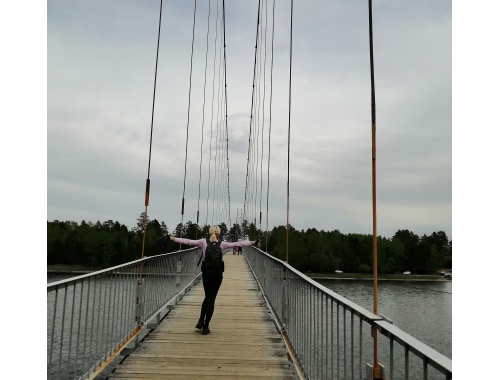 09:00 a.m. Meeting with trekking instructor at the reception f of one of hotels/guest houses in Irkutsk
Transfer by a private car to Shamanka Settlement (about 1 hour-long drive)
10:00 / 10:30 a.m. a.m. The first place of interest, which we will see right upon arrival in the settlement, is a hanging bridge to Shamanka Village over the Irkut River. It's the longest hanging bridge of Irkutsk region, 244 meters long. The bridge itself as well as the surrounding views are fascinating and never fail to charm its visitors.
11:00 a.m. Beginning of the ascent to the cliff (about 30 minutes hike upwards; rather tiring and steep, but not dangerous)
11:30 – 15:00 p.m. Hiking along the path with 33 high points of Shaman Cliff, stops for numerous photos and time to admire the landscapes
Halt for a lunch-picnic
Descent from the hill, which will take us about 30 minutes. The path is steep; one should move with exceptional care. As the road is pretty steep it's recommended to have gloves
15:30 p.m. Hike back to the hanging bridge along the river bed of Irkut river with marvelous views on the cliff from below.
16:15 / 16:30 p.m. p.m. Return to the bus and transfer back to Hotel in Irkutsk
Round 18:00 p.m. Arrival to hotel / guest house in Irkutsk. End of the trekking tour.
E-mail: sputnik_irkutsk@mail.ru