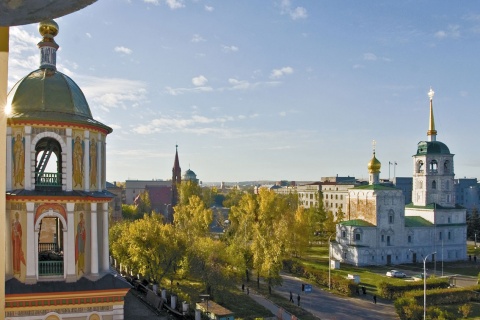 Highly recommended for Photographers!
The best time to visit Olkhon Island is autumn (firth part of September, the so called "Indian Summer), when Siberian Nature is especially beautiful and colorful.
Day 1
Arrival in Irkutsk, meeting with the guide
Transfer to city center
Beginning of the city tour round Irkutsk
You will have a chance to get acquainted with history, culture and traditions of the oldest and most beautiful cites of Eastern Siberia – Irkutsk!   
The tour starts in the historical center of Irkutsk, where Irkutsk was founded in 1661: Historical center → Square of Three Churches (Church of Our Savior, Epiphany Cathedral, Polish Roman Catholic Church) → War Memorial and Eternal Flame → Bridge of Love and Embankment of the Angara River → Triumphal Arch → Sign of the Cross Convent
Visit to Museum of Regional History in Irkutsk – excellent opportunity to find out numerous interesting facts about exploration of Siberia and to see ancient artifacts dating back to the Stone and Bronze Age
13:00 – 14:00 p.m. Lunch in one of local restaurants
Continue city tour.
In the second part of our city tour guests will walk along the main street of the city – Karl Marx with elegant merchant houses of the XVIIIth and  XIXth centuries, visit Central Market, Monument to Alexander the III (the most beloved Russian Tsar among Siberians) and have an evening walk the wooden district with lovely wooden houses and numerous souvenir shops
18:00 – 19:00 p.m. Dinner in one of local restaurants
Round 19:30 p.m. Arrival in one of hotels in Irkutsk and check-in
Night in Irkutsk
Day 2
Breakfast in hotel's restaurant
09:00 a.m. Check-out and meeting with the guide at the reception
Departure to Olkhon Island
Olkhon Island is often called "Place of Power" by locals and considered to be one of the Main Sacred Places for Buddhists and Shamanists in Asian part of the World.
Distance from Irkutsk to Olkhon Island is about 350 km and usually it takes about 5 hours (direct transfer) to get to Olkhon from Irkutsk.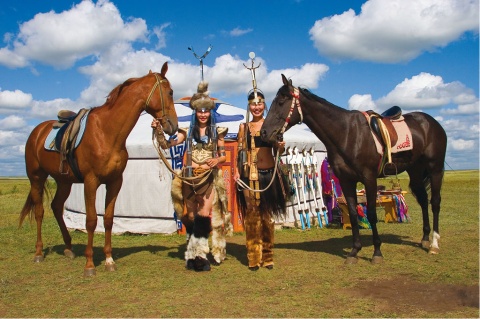 10:30 – 12:00 p.m. En route to Olkhon Island we will stop in Buryat Village of Ust Orda, where the guide will tell you about local Siberian population – Buryats, who lived at Baikal long before Russians came here; you will learn a lot of interesting facts about Buryat Culture, traditions and especially about their religion – Shamanism
Visit to Museum of Regional history in Ust Orda
Meeting with Buryat Shaman, who will tell us about the essence of Shamanism and who will pray to local Gods for us to have a good and safe journey
12:30 – 13:30 p.m. Lunch in one of local cafes en route to Olkhon Island.
You will try traditional dishes of Buryat people, which are extremely tasty and differ a lot from traditional Russian and European cuisine
Optionally: Folklore concert of Buryat people
Continue transfer to Olkhon Island
Round 17:00 p.m. Arrival to one of hotels on Olkhon Island, check-in and rest after long road
Evening walking tour to the Famous Shaman Rock Burkhan, where the main God of Baikal lives. Burkhan Cape is tremendously beautiful when the sky is aglow with the setting sun..
Dinner in hotel's restaurant
Night on Olkhon island
Day 3
Breakfast in hotel's restaurant
10:00 – 16:00 p.m. Day-tour to the Northern Part of Olkhon island – Cape Khoboi
Today's tour is a real experience! We are going to drive northwards by off-road Russian jeeps, called UAZ.  The road is bumpy, the scenery is majestic! Wild Olkhon beauty is enchanting!  
There will be several stops en route so that guests can walk around, take nice photos and enjoy the views.
The point of today's destination is the very northern part of Olkhon Island, called Cape Khoboi. Upon arrival to Khoboi the guide will tell you one of numerous legends about this place
That's a real must-have on Olkhon Island. The best fish-soup (Ukha) cooked on open-fire with fresh Baikal Omul-fish, vegetable salad and Siberian tea with fragrant Baikal herbs – will make our excursion even more exotic!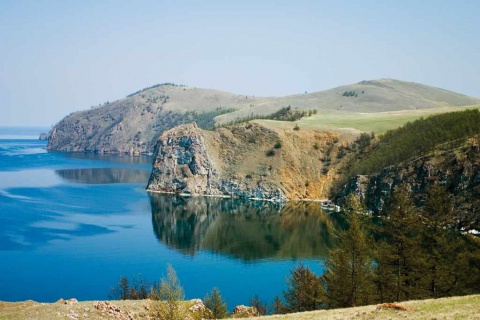 Round 16:00 p.m. Return to hotel on Olkhon Island and free time
Optionally: 2-hour-long boat-trip at Lake Baikal: we will sail along small islands near Olkhon Island in rays of the setting sun and will be able to hand-feed local sea-gulls… A Very romantic end of the active day!
Dinner in hotel's restaurant
Night on Olkhon island
Day 4
Breakfast in hotel's restaurant
09:00 a.m. Check-out and meeting with the guide at the reception of the hotel
Departure back to Irkutsk
Lunch in one of local cafes en route to Irkutsk
Round 16:00 p.m. Arrival in Irkutsk, visit to the Famous Kazan Church of Virgin Mary and evening walk in wooden district
18:00 – 19:00 p.m. Farewell Dinner in one of local restaurant
Round 19:00 p.m. Return to hotel in Irkutsk, check-in and night in Irkutsk
Day 5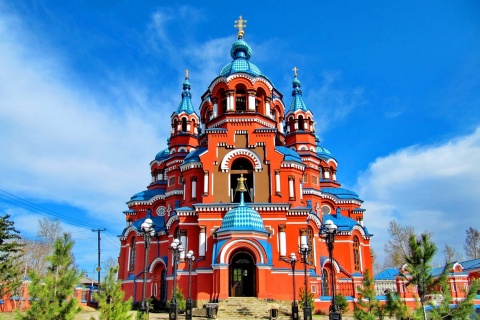 Breakfast in hotel's restaurant or breakfast boxes
Meeting with the guide at the reception of the hotel and check-out
Transfer to the airport / train station in Irkutsk and Departure