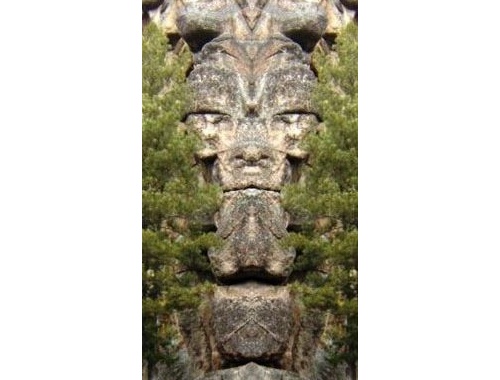 The KNIGHT is a granite wall, 40m high, which is located in the valley of Olkha River. It's often called "Alpinists' nest", as it presents a lot of interest both for professional alpinists and beginners. 
Its micro-relief is quite diverse: from numerous sections with low-level cliffs to steep overhanging walls.
The rock shoe has a very intricate form and resembles a tilting-helmet of the knight.
There's no need to worry that the rock shoe is pretty high and steep as we are not going to climb it. There is a safe and comfortable hiking-path to the top of the rock shoe, which runs through the picturesque Taiga forest. Middle level of physical readiness is needed; the tour is suitable even for families with children. 
The IDOL is one of the most popular and well-known rock shoes of Olkha Plateau. It's a stone column of a regular polygon form topped up with a smaller stone, which looks like a big head. Its total height is 30 meters.
The rock shoe monumentally rises above the Taiga forest and looks like a mysterious place of worship from almost forgotten pagan fairy-tales and legends. Some tourists say that the IDOL rock looks a bit like sculptures from Easter Islands.   
Total hiking distance: 16 km
Starting point / end point: railway station in Irkutsk
Recommended:
sprays against mosquitoes and ticks (highly recommended to have an injection against tick-borne  encephalitis)
trekking shoes
Program: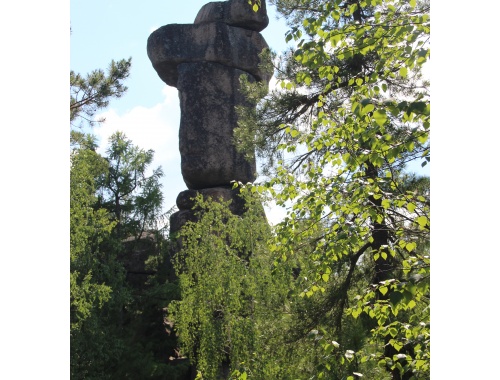 09:00 a.m. Meeting with hiking instructor and Departure with intercity train to Olkha Valley
1.5 hour-long train trip. During the train trip we are going to pass by small villagers and dachas (summer-houses), which are conveniently located along the railroad. The area has its own microclimate as is located in the forest and protected from strong winds. It's a bit warmer and more humid here than in Irkutsk; thanks to this fact local farmers can get a better harvest.
Arrival and beginning of the hike towards the rock shoe "The KNIGHT". It will take us about 1.5 hours to get to the rock shoe along picturesque forest path, which runs through the Taiga forest and along the rock river with huge stones covered with dark green and yellow moss.  
Round 12:30 p.m. arrival to the rock-shoe "The KNIGHT"; photo-stop and walk in the surroundings
Lunch-picnic (sandwiches, hot tea and sweets)
Hike  towards "the IDOL" rock shoe (about 40 minutes along the forest path)
Free time at the rock-shoe for photos and a small picnic
18:30 p.m. Return to the train station and departure back to Irkutsk with intercity train    
Round 20:00 p.m. Arrival to the main train station in Irkutsk. End of the hike.
E-mail: sputnik_irkutsk@mail.ru