Rock shoes "Varan and Shakhtai"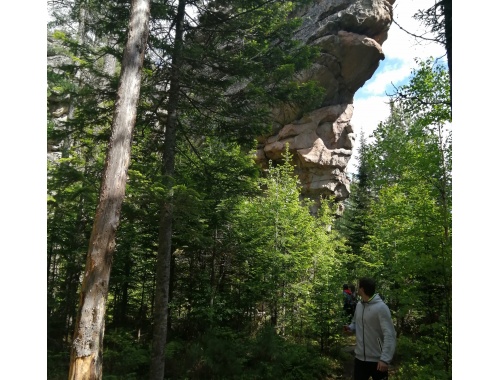 This hike is one of the easiest and most accessible for all types of guests including families with kids.
The rock shoe is located in the nearest vicinity to the Railway station and is available for all travelers, who want to enjoy an easy hike in Taiga forest and to admire the views.
Total hiking distance: 8 km
Starting point / end point: railway station in Irkutsk
Recommended:
sprays against mosquitoes and ticks (highly recommended to have an injection against tick-borne  encephalitis)
trekking shoes
"VARAN" is just one of numerous names, how people call this rock shoe. It all literally depends on your point of view and imagination.
Its first and original name is «Crow's stone" as the rock shoe looks like a head of a crow if to look at it from southward.
But if to look at the rock from below and a bit from the other side, it will remind of a varan and you will see a huge reptile with a ravenous face.
This megalith is one of the most interesting among other rock shoes of Olkhin plateau. It differs from all other skerries as it is represented as a single narrow and protruded rock of about 100 meters long and from 15 to 30 meters high.
The stone is surrounded with age-old Taiga forest, the top is covered with intricate patterns of moss and yellow mould. One can enjoy a dreamy view onto the Olkhin Plateau, railway and Lake Baikal from its top.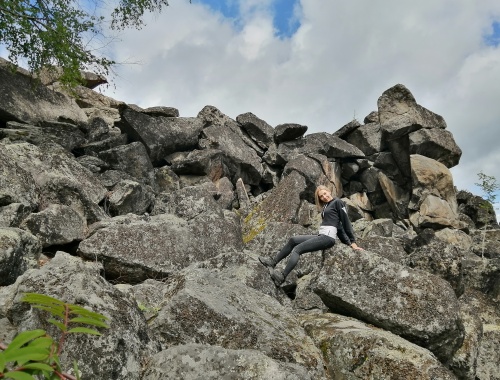 There's another rock shoe called "SHAKHTAI" at a distance of about 1.5km from Varan.
It's a massive roach of about 500meters long topped up with a cone-shaped tower of light-grey color. Its altitude is 960 meters above the sea level.
One should get to the top of this rock shoe with extra care; the climb itself is not difficult, but you should beware of steep angles, wide and deep cracks and steep rocks. The view from the top is worth the ascent!
Program:
09:00 a.m. Meeting with hiking instructor and Departure with intercity train to Olkha Valley
1.5 hour-long train trip. During the train trip we are going to pass by small villagers and dachas (summer-houses), which are conveniently located along the railroad. The area has its own microclimate as is located in the forest and protected from strong winds. It's a bit warmer and more humid here than in Irkutsk; thanks to this fact local farmers can get a better harvest.
 
Arrival and beginning of the hike towards the rock shoe "VARAN". It will take us about 1 hour to get to the rock shoe along picturesque forest path, which runs through the Taiga forest and along the rock river with huge stones covered with dark green and yellow moss. 
Round 12:00 p.m. arrival to the rock-shoe "VARAN"; photo-stop and walk in the surroundings
Lunch-picnic (sandwiches, hot tea and sweets)
Hike  towards "SHAKHTAI" rock shoe (about 30 minutes along the forest path)
Free time at the rock-shoe for photos and a small picnic
18:30 p.m. Return to the train station and departure back to Irkutsk with intercity train   
Round 20:00 p.m. Arrival to the main train station in Irkutsk. End of the hike. E-mail: sputnik_irkutsk@mail.ru