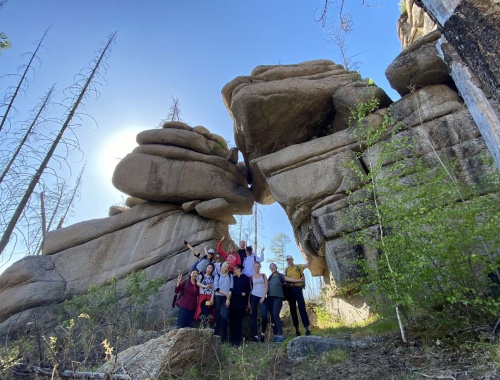 Total hiking distance: 26 km
Starting point / end point: railway station in Irkutsk
These skerries are located at a significant distance (13 km to and 13 km back) from the railway station, therefore at least middle level of physical readiness is recommended. The path runs through the Taiga forest and along the stone river; elevations are gradually getting higher.
Recommended:
sprays against mosquitoes and ticks (highly recommended to have an injection against tick-borneencephalitis)
trekking shoes
"OLD WOMAN" rock shoe is considered to be one of the most eye-catching with well-defined shapes. It attracts a lot of hikers and lovers of nice photos.
Hikers call this rock "Old woman or grandma or … witch" as it really reminds of a wrinkled face of an old angry woman with big hooknose…
There is such a hero of Russian folk fairy-tails as "Baba Yaga" --  ogress, who lives alone in the forest, steals, cooks, and eats  children, who misbehave.. So, the rock shoe looks absolutely the same as Baba Yaga
Locals call "Grandma" the main guard of Olkhin Plateau and treat her with big respect
"FORTRESS" is another rock shoe, which is located in the nearest vicinity to "Old woman" cliff (hiking time is about 30 minutes along the stone river).
The rock shoe is formed with a group of U-shaped rocks of about 25 meters high and looks like a real fortress with narrow loop-holes, sharp towels and massive gates topped up with a huge stone block. It's a training place for rock-climbers and here you can see a lot of hooks, rings and chains punched on walls.
   Program:
1.5 hour-long train trip. During the train trip we are going to pass by small villagers and dachas (summer-houses), which are conveniently located along the railroad. The area has its own microclimate as is located in the forest and protected from strong winds. It's a bit warmer and more humid here than in Irkutsk; thanks to this fact local farmers can get a better harvest.
Arrival and beginning of the hike towards the rock shoe "The OLD WOMAN". It will take us about 3 hours to get to the rock shoe along picturesque forest path, which runs through the Taiga forest and along the rock river with huge stones covered with dark green and yellow moss.
Round 13:30 p.m. arrival to the rock-shoe "The OLD WOMAN"; photo-stop and walk in the surroundings
Lunch-picnic (sandwiches, hot tea and sweets)
 
Free time at the rock-shoe for photos and a small picnic
20:00 p.m. Return to the train station and departure back to Irkutsk with intercity train
Round 21:30 p.m. Arrival to the main train station in Irkutsk. End of the hike.
E-mail: sputnik_irkutsk@mail.ru