"Taltsy" is appraised by decree from the President of the Russian Federation as a highly valuable object of cultural heritage of local peoples in Russia.
Taltsy museum is conveniently situated on the 47th km of the highway to Lake Baikal. On its 67-hectare territory there are over 40 monuments of architectural heritage and 8,000 exhibits of high historical value. Two architectural-ethnographical areas - Russian and Buryat - show a large variety of housing and life of the Siberians.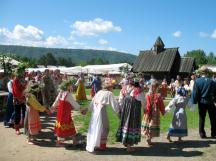 When you enter the museum you enter a real Siberian village! This museum gives its guests an excellent change to see ancient Siberian wooden houses dating back to the XVIIth and XVIIIth centuries and make acquaintance with traditions and way of life of Siberians.
On the territory of the museum there're:
a nice cozy café where guest can relax after excursion and enjoy traditional Siberian tea with pancakes

gift shop. Something will surely catch your eye as a souvenir for you or your friends: whistles, matreshkas, beads made of Baikal stones and wood, icons, kerchiefs, wattled baskets and many other interesting objects

The potter's and birch crafts are reconstructed in the museum. You can model in clay small "masterpiece" with your own hands and take it with you as the memory of the museum.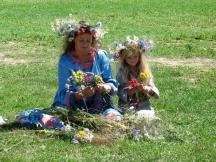 Traditional Russian national holidays are organized for many years in the museum. Mass festivals are held on Christmas, Saint days (between Christmas and Epiphany), Shrovetide, Trinity, a Holiday of Crafts.